IMPL. PROJECT recently conducted a two-year malign influence monitoring project for USAID Azerbaijan. We measured where and how malign actors exerted influence, where influence operations succeed or fail, and how the political and economic environment in Azerbaijan facilitates or resists malign influence on its democratic institutions, information environment, energy sector, economy, and social dynamics.
As a part of the project, IMPL. PROJECT produced a report from 12 case studies on government organizations or proxies of the Russian Federation, People's Republic of China (PRC), and the Islamic Republic of Iran (IRI). We assessed their overt and malign objectives, measured their level of activity, identified which Azerbaijani people, organizations, or population groups facilitated or resisted those efforts, and the impacts of influence operations.
In order to monitor, assess, and measure malign influence, for-profit corporations and private sector firms have numerous advantages over non-profits. Well-funded U.S. government intelligence agencies use advanced, resource intensive, collection methods and analytical tools to find hidden relationships. As a non-profit, IMPL. PROJECT instead used open-source tools to find evidence of underlying malign influence operations.
In order to do this successfully, IMPL. PROJECT conducted numerous key informant interviews (KIIs) with Azerbaijani subject matter experts and stakeholders, representing government and independent think tanks, universities, state-run and independent news media, and logistics infrastructure management. We monitored government websites, independent media, and social media from China, Iran, Russia, and Azerbaijan, cataloged 125 instances of propaganda or disinformation targeting an Azerbaijani audience, and developed robust indicators in order to quantify the strength of the relationship between Azerbaijani organizations and malign actors. Most importantly, all of our research was supported by on-the-ground data collections in 2018, 2019, 2021, and 2022. These data collections resulted in nearly 14,000 face-to-face, geotagged, structured surveys, and dozens of KIIs, focus group discussions (FGDs), and site surveys.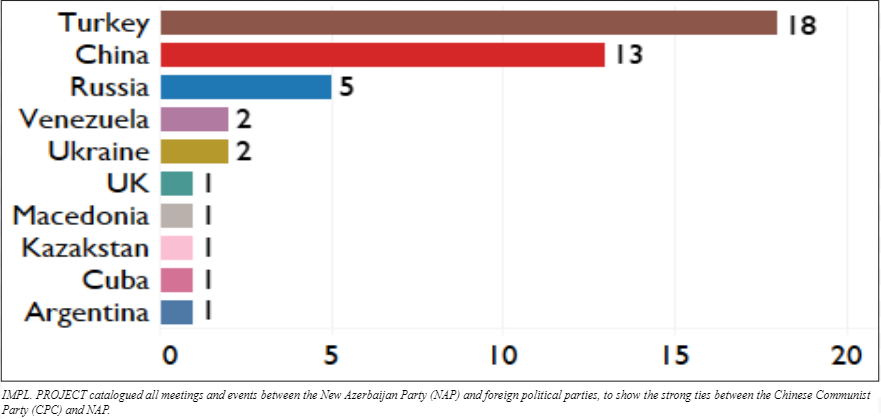 Our research illuminated very successful Communist Party of China (CPC) efforts at "elite capture," spearheaded by PRC President Xi Jinping, but predominantly conducted by CPC controlled entities. President Xi Jinping gained Azerbaijani President Ilham Aliyev's support for the PRCs policies on Tibet, Taiwan, Jinjiang, Honk Kong, and the South China Sea, and support in re-shaping international institutions away from U.S. hegemony. President Ilham Aliyev's rhetoric and his country's votes in the United Nations General Assembly (UNGA) also reflect his stance against western interference, closely matched that of President Xi Jinping. In 2022, Azerbaijan voted with China 64% of the time at UNGA, but with the US only 10% of the time.
President's Xi Jinping and Ilham Aliyev meet or call each other only once per year, a very low level compared to President Ilham Aliyev's communication with Turkish President Recep Tayyip Erdoğan, Russian President Vladimir Putin, and other European Union (EU) leaders. Low rates of communication between the heads of state indicates that much of the influence work falls to subordinate CPC controlled entities.
Our research also showed that The International Department of the CPC Central Committee (IDCPC) has strong party-to-party relations with the ruling New Azerbaijan Party (NAP). The NAP holds more events with the CPC than with any other party except Turkey's Justice and Development Party (AK Party). Additionally, the Chinese People's Institute of Foreign Affairs (CPIFA) works with Baku's Nizami Ganjavi International Center (NGIC) to gain European allies for Beijing's propaganda narratives. By recruiting European leaders to amplify CPOC talking points, Azerbaijan further enabled CPC malign influence.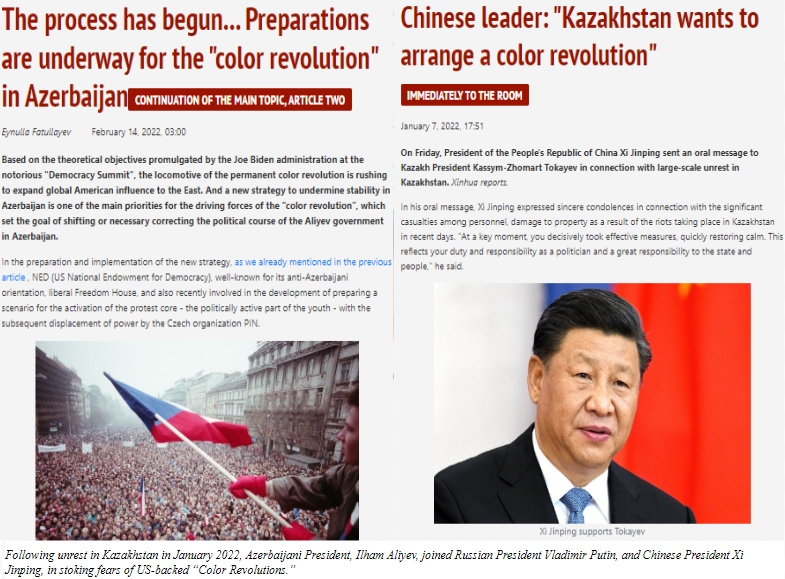 Interestingly, while China has no Azerbaijani language news outlets, Azerbaijan's media launders CPC propaganda to its audiences. The state news agency, AZERTAC, often reposts Chinese government press releases verbatim, and presents the superiority of the CPC governing system to alleviate poverty, speed modernization, and defend a nation's sovereignty from external interference. President Ilham Aliyev joined President Xi Jinping and President Vladimir Putin in decrying any protest in their countries as western-backed "Color Revolutions," and Azerbaijan's media amplified this message.
Chinese telecom giant Huawei gained Baku's support in its effort to reshape the global internet governance model to more closely match China's digital authoritarianism. Huawei is building a long-term relationship with the Azerbaijani tech sector through the Seeds of the Future scholarship program, and joint ICT Academy Research and Development Centers at Baku area universities. The number of Huawei's ICT centers doubled in the past 5 years. At UNGA, Azerbaijan voted with China on all resolutions regulating internet governance, especially those giving governments more control over the internet. Luckily, for worldwide internet users, in the most important election that most people have never heard of, the 2022 election for the General Secretary of the UN's International Telecommunications Union, the American candidate beat the Chinese and Russian-backed candidate, Baku-born Rashid Ismailov.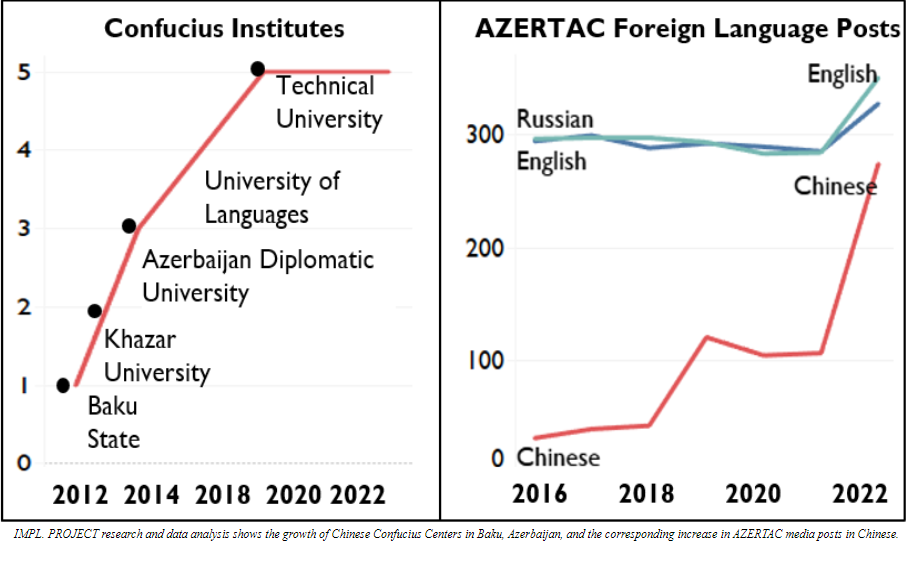 Since 2012, in order to influence Azerbaijani culture, China has established 5 Confucius Institutes at Baku area universities. Confucius Institutes offer language training and scholarships to build relations with Azerbaijan's educated class. Institute staff translate President Xi Jinping's political philosophy into Azerbaijani. Institute staff also helped AZERTAC to increase its Chinese language output from 32 stories in 2016, to 274 in 2022. Despite this, Azerbaijnais are still much more inclined to prefer English language training thanks to American soft power and pop culture.
While Baku elites speak glowingly of the government's relationship with Beijing, the general population of Azerbaijan is ambivalent. IMPL. PROJECT surveys show that less than 1% of Azerbaijanis admire China or see a future for their children in China. Only 2% of those surveyed express the desire to learn Chinese and prefer Chinese economic aid over EU or US aid. Additionally, only 1% feel that China's policies are harmful.
This data shows that Azerbaijani attitudes toward China are largely unformed, especially when compared to their sentiment towards the U.S. IMPL. PROJECT data shows that 46% of Azerbaijani respondents want to learn English and want more US economic aid, 26% admire the U.S., and 19% see a future for their children in America. Yet in a one-party autocracy like Azerbaijan, China need not waste effort currying popular support. IMPL. PROJECT reporting showed USAID Azerbaijan the extent to which China gained supporters throughout the Azerbaijani government, and the future leaders of Baku's education, technology and political establishment. This influence will pay dividends for years to come.
Despite Iran and Azerbaijan's shared geographic border, our research found very few ties between the country's governments. Instead we found that President Ilham Aliyev spearheaded efforts to increase diplomatic, military, economic, and cultural ties with Iran's primary adversary: Israel. With no success targeting Baku's governing elites, Iran attempted to foment discontent among the religious population and to turn them against President Ilham Aliyev's government, and allies, Turkey and Israel.
The Iranian Islamic Revolutionary Guard Corps (IRGC), created the Islamic Resistance Movement of Azerbaijan, or the "Huseyniyyun," to conduct propaganda and protests in support of repressed Azerbaijani Shia movements such as the Muslim Unity Movement (MUM). The IRGC also attempted to foment separatism in the autonomous Nakhchivan region of Azerbaijan, with Telegram channels promoting an, "Iranian Nakhchivan People's Movement," which complained of President Ilham Aliyev's corruption, embrace of Zionism and Sunnism, and oppression of Shia worship. Because Iran's influence efforts against Azerbaijan are so ineffective, Tehran instead supports and malignly influences Azerbaijan's main enemy: Armenia. Since Azerbaijan liberated border regions occupied by Armenia, Iranian think tanks, government and media figures have increased propaganda around a conspiracy that NATO, the U.S., the United Kingdom, and Israel are colluding with Baku, Israel, and Turkey, in order to gain a land corridor through Armenia to transit gas, communications equipment, weapons, and intelligence operations to foment Turkish nationalists in Russia, China, and Iran.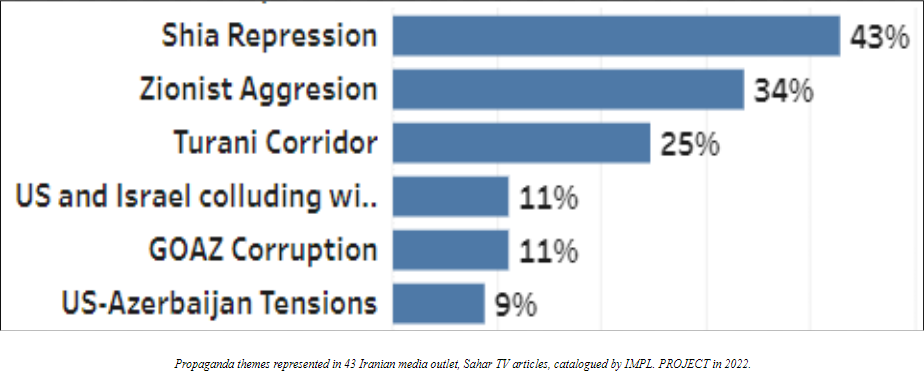 Iran suppresses the Azerbaijani language spoken by its largest non-Persian ethnic group, and has no Azerbaijani language media except for Sahar TV, which supports the IRGC's hybrid campaign to create a rift between the citizens of the Republic of Azerbaijan, and the government of Azerbaijan. IMPL. PROJECT counted 43 instances of disinformation or propaganda on Sahar TV in 2022. Azerbaijani media does not repost and amplify Shahar TV's reporting, except to occasionally dispute it, and to decry Iranian disinformation. In fact, the primary source for Iranian news cited by Baku's media, is the Chicago, Illinois-based anti-Tehran watchdog, "Azad Iran" Telegram channel.
Furthermore, Azerbaijan's security services shut down the only Iranian mosque in the country, and closely monitor Iranian organizations with a presence in Baku, such as the Iranian Cultural Center. Iranian influence is blunted by Baku's newly adopted "Law on Religion," and Aliyev's rhetorical emphasis on nationalist "Azerbaijanism" as an alternative to religious sectarianism.
Because of Iran's anti-Azerbaijan propaganda, negative sentiment toward Iran has increased dramatically. In 2022, when IMPL. PROJECT asked survey respondents in Azerbaijan to name a country whose policies and leadership harm Azerbaijan, 26% named Iran, an increase from 17% in 2021. Only 1% admire Iran, want Iranian economic aid, or want to learn Persian. Only 6 respondents out of 3,000 saw their family's future in Iran. The growing hatred for Iran coincided with admiration for Israel increasing from less than 1% in 2019, to 11% in 2022.